The Environmental Safety and Health (EHS) management system is a management system that began to develop in the 1990s. The EHS management system is to reduce various accidents, environmental and occupational hazards through a systematic preventive management mechanism, so as to minimize the incidence of accidents, environmental pollution and occupational diseases, and ultimately achieve a management system that improves the unit's environment, health and safety. . The EHS management system is an integration of the environmental management system (EMS) and the occupational health and safety management system (OSHMS).
The EHS management system adopts a modern management model to make all production and operation including safe production management scientific, standardized and legal. Its purpose is to protect the environment, improve the health and safety of the workplace, improve working conditions, and maintain employees. Legitimate interests. The EHS management system adopts the PDCA cycle of planning, operation, evaluation, and improvement to operate.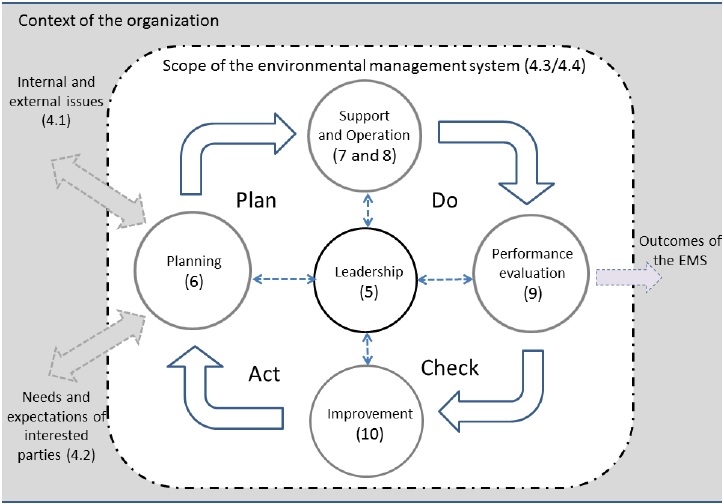 ▲Picture: PDCA cycle
Since the establishment of the school in 2013, the school is in a stage of rapid development, and safety work has always been the top priority. In 2019, our school established the Environmental Safety and Health (EHS) Division to start building the laboratory's environmental safety and health (EHS) management system. By providing all aspects of EHS management services to the teachers and students of the school, supporting the school mission of serving the national economic and social development strategy and the school philosophy of aspiring, becoming talented, serving the country, and enriching the people, providing the core teaching, scientific research and work of the school Solid guarantee.
The EHS management policy of our school is determined as:
Abide by Rules and Regulations, Environmental Health and Safety is Everyone's Responsibility,
Continuing Improvement, Create a Healthy and Safety Environment for All in the Campus.
With the establishment of the school's EHS management policy, the relevant management systems, procedures, specifications and standards of the Department of Environmental Safety and Health will also be introduced one after another. The EHS of Shanghai University of Science and Technology will effectively protect the rights and interests of teachers and students through systematic management to ensure the school's business operations. Steady and far-reaching.

We will reduce and avoid safety accidents by strengthening the safety knowledge, awareness and ability of teachers and students, and work with the teachers and students of the whole school to build a campus EHS safety culture to promote the overall safety environment of our school.

(1) Continuously improve laboratory safety management
Implement three-level linkage management of schools, institutes, and laboratories.
Establish a risk assessment management system for experimental projects.
Strengthen laboratory safety inspections and continuously improve laboratory safety.
(2) Continue to carry out laboratory safety education
Laboratory freshman training and safety education examination system.
Laboratory safety theme training and organizational learning.